Sound Designs by Gareth Fry - 2017
Let The Right One In
Tour of Austin and Houston, Texas, and Seattle, in January. Abbey Theatre, Dublin in December 2017.
Director: John Tiffany. National Theatre of Scotland.
Production also played the Dundee Rep and Royal Court Theatre in 2013, Apollo Theatre, London in 2014, St Ann's Warehouse, New York in 2015, and Korea in 2016.
"its world pulses with otherworldly undercurrents, beautifully sustained by Gareth Fry's sound design" Ben Brantley, New York Times
"Gareth Fry did the sensational sound design." Ben Brantley, New York Times
"Gareth Fry's soundscape sends a menacing pulse through the action that resolves into the thump of a frightened heart." Susannah Clapp, Observer
"Accompanied by Gareth Fry's evocative sound design, the production constantly teeters on an anticipatory edge, toying with the film's horror origins but converting it to a more fitting level of suspense for the stage" Ian Foster, The Public Review
"t's as unexpected, and as unusual, as anything on Shaftesbury Avenue in recent years, with ... a soundscape by Gareth Fry that sets new standards in atmospheric scariness." Michael Coveney, WhatsOnStage
"There's an air of wistfulness, longing and loneliness to John Tiffany's appealing, occasionally ethereal production, which is underscored by a thrillingly haunting soundscape from Gareth Fry." Fiona Montford, Evening Standard
City of Glass
HOME, Manchester and Lyric Hammersmith. Directed by Leo Warner
The Stage's Top 100 Most Influential People in Theatre
I made it to No.96!
I made this short film with writer/director Nathaniel Martello-White, produced by Air Street Films, Creative England and the BBC.
The film stars Joel Fry (W1A. Game of Thrones, Trollied) and takes a dark look at gentrification.
Goldcrest very kindly provided their facilities so we could ADR and mix the film there, with Jamie Roden doing a lovely job of the mix.
Cla'am premiered at the SXSW film festival
UPDATE: Cla'am won the Best Short Film award at the Raindance Festival
Olivier award for Harry Potter and The Cursed Child
I even made it in to the Daily Mail Style page!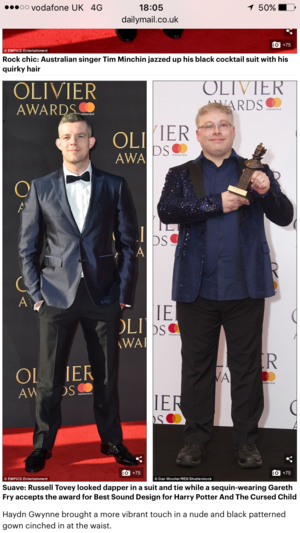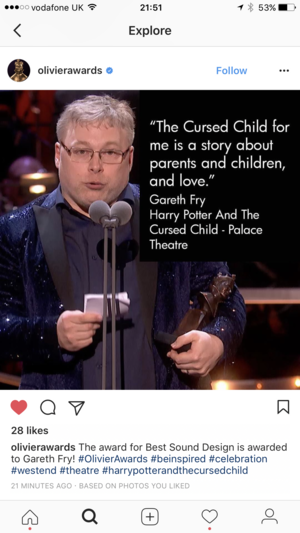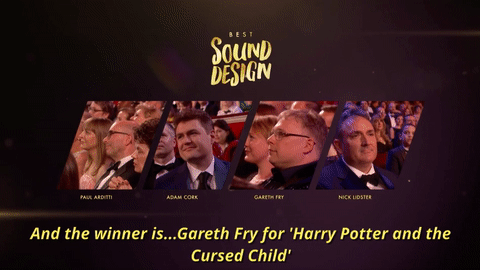 Draw Me Close VR
I worked with Ollie Lindsey/All Seeing Eye again, this time at the NT Immersive Storytelling Studio, to create the sound design for Draw Me Close: a scene from a new play by Jordan Tannahill, looking at the relationship between a mother and her son in the wake of her terminal-cancer diagnosis. This is a super interesting VR and live theatre project, involving a mix of cutting edge HTC Vive tracker technologies, some really cool animation and actress Tamsin Griffin.
The Encounter - Australia & New Zealand, into Ann Arbor, Los Angeles, San Francisco, USA
Directed by Simon McBurney
New York Times - Ben Brantley [Full review]
"Mr. McBurney and his ace sound designers, Gareth Fry and Pete Malkin, have created an aural labyrinth of many layers. You'll be watching Mr. McBurney's lips moving in sync with what you're hearing, only to discover that it's just a recorded voice you've been listening to.
Did I say "just a recorded voice"? It's a mistake to give undue value to what's "real" over what's a simulacrum of reality. With your earphones on, there's no distinguishing between the live and the prerecorded, a blurring that allows Mr. McBurney to conduct very immediate-feeling conversations with his past selves."
Hollywood Reporter - David Rooney [Full review]
"the production's most astonishing artistry is the infinitely layered enveloping world conjured by sound designers Gareth Fry and Pete Malkin. Close your eyes and you might find yourself reaching for bug spray."
Variety - Matt Trueman [Full Review]
"Gareth Fry's design piles up layers of sounds — recorded interviews, foley effects, a soundscape of McBurney's home study. The effect is a soundcloud of a process, in which fact and fiction, past and present, research and production intermingle, spinning a story out of the air."
Talkin' Broadway - Matthew Murray [Full Review]

"the astonishing sound design by Gareth Fry and Pete Malkin ... play games with time, space, and thought you probably never thought possible. Echoes repeat and sustain themselves into infinity. Seemingly random noises layer into gorgeous but chilling tapestries outlining entire ecosystems. The British McBurney, simply by angling his head, can conjure an electronic American voice that rings utterly natural. Words transform into memory, which in turn become a wholly different reality, which is itself then subject to McBurney's tiniest whims. And if he wants you to become hot, cold, or despairing, or to escort you to the brink of death, he'll stand in exactly the right place and unleash his utterance in just the right way to ensure you're helpless in his hands. It really is all this precise. Perhaps the most arresting facet of this towering accomplishment is that it all feels as though it's been created just for you. Delivered as it is through a headset you're provided upon taking your seat, the soundscape is intensely intimate, which only makes the shivers cut deeper."
Time Out - David Cote [Full Review]

"Part mystic thriller, part tricksy aural illusion, The Encounter offers a meeting of ear, mind and soul you will never forget."
The Guardian - Alexis Soloski [Full Review]

"a triumph of binaural recording"
Exeunt - Nicole Serratore [Full Review]

" the show is heavily reliant on binaural sound to create a sonically immersive environment (the incredibly complex sound design by Gareth Fry and Peter Malkin is a great reason to resuscitate the now-defunct Sound Design Tony award). With the headphones, we have no distance from the events because the show is happening inside our heads. With the intimate power of sound, we give over entirely to what we hear, even if we know it is not real. We've been told that's not an actual recording of a buzzing mosquito and when we hear it later as part of the artificial cacophony of jungle sounds we do not stop and question it."
The Village Voice - Miriam Felton-Dansky [Full Review]

"With sound designers Gareth Fry and Pete Malkin, McBurney transforms our own relationship to reality, space, and perception through the constantly shifting sounds in our headphones. "
Epoch Times - Judd Hollander [Full Review]

"The other star of the performance is the sound design. McBurney himself acknowledges the considerable efforts of his sound design team, led by Gareth Fry and Pete Malkin—all of whom deserve the praise they have received."
Theatre is Easy - Ran Xia [Full Review]
" McBurney, with the help of sound designers Gareth Fry and Pete Malkin, has turned the performance into a synesthesia-inducing, orgasmic auditory experience, "
Interview with Vanity Fair
Interview with TDF Stages
The sound design for The Encounter was awarded The Evening Standard's Best Design Award 2016, and in 2017 received a Drama Desk Award, a Special Tony Award and a Helpmann Award.
Pete and I are super proud to have been awarded a special Tony Award for the sound design of The Encounter. This is particularly special because the Tony Awards axed the annual sound design awards back in 2014, saying they would only award one for sound in exceptional circumstances. Alongside our award the Tony Awards announced that they would be resuming awarding regular awards for sound design from next year, which is super news.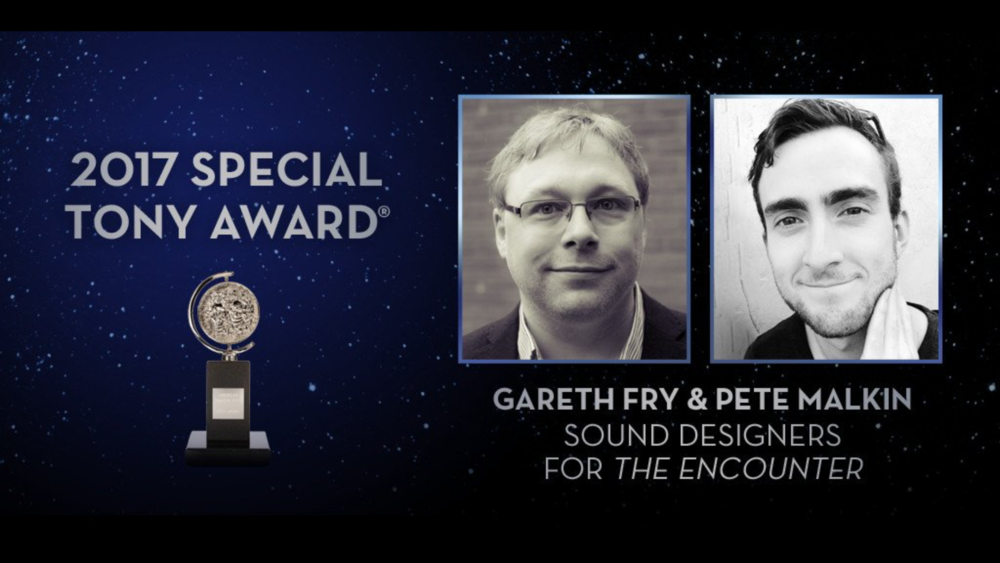 Woyzeck
Old Vic Theatre. Directed by Joe Murphy.
A new adaptation by Jack Thorne, at the Old Vic Theatre. It stars John Boyega (Star Wars), with music by Isobel Waller-Bridger and is directed by Joe Murphy.
"Murphy's production follows Woyzeck's descent into drug-addled madness, unravelling from normality into chaos, with a claustrophobic set of sliding padded panels by Tom Scutt, an explosive sound-scape by Gareth Fry and a resonant score from Isobel Waller-Bridge." The Stage
"The staging is quite beautiful, a series of insulated walls – one even has meat seeping out – float in from above and glide in and out of the wings, while patches of light illuminate areas of the stage in regimented order. At times the cast seem to appear out of nowhere and this is even before we admire Ben Hart's subtle illusion. The walls move in waves with a pulsating rhythm, matching Gareth Fry's impressively oppressive sound design" Theatre Weekly
Barbershop Chronicles at the National Theatre and West Yorkshire Playhouse.
I'm super proud to be involved with this production, which opens today at the National Theatre. It doesn't use (or need) lots of sound, but it's an awesome play by Inua Ellams, performed by a brilliant ensemble and directed superbly by Bijan Sheibani.
Barbershop returned to the National Theatre at Christmas, before embarking on a tour of Australia and New Zealand.
HearNow Festival
I was the keynote speaker for the HearNow festival in Kansas.
Collaborating with curators Claire Catterall, Lizzie Ostrom and podcast producer Jo Barratt, I worked on creating a soundtrack for each of the ten perfumes that feature in this exhibition.
Birkbeck directors course
Sound design workshop
Cat on a Hot Tin Roof
Cat on a Hot Tin Roof, directed by Benedict Andrew, starring Sienna Miller, Jack O'Connell and Colm Meaney
Road - Royal Court Theatre
Road opened at the Royal Court Theatre, 30 years after it's original production at the Royal Court. Directed by John Tiffany (my 7th show working with John),
I designed the sound for this 15 minute multi-surface film projected around the 3 sides and central column of St Andrews Square in Edinburgh, the opening event of the Edinburgh International Festival.
Film4 Summer Screen at Somerset House
Sennheiser Blue Print for Ambeo
I wrote a piece for Sennheiser on recording with binaural sound.
iPhone/Android app-based sound-walk around Brooklyn Bridge Park for St Ann's Warehouse.
We recorded lots and lots of interviews (using a Sennheiser Ambeo ambisonic microphone) in Brooklyn Bridge Park, which were then edited into over 1100 files and 18 hours of material. The app will determine your location within the park and choose segments of interviews for you to hear, such that you'll never have the same experience twice.
Director: Geoff Sobelle
Wings opened at the Young Vic Theatre. This piece is super interesting, looking at the experience of having a stroke from the victim's perspective, starring Juliet Stevenson and directed by Natalie Abrahami.
Photos by Johan Perrson
I recorded, edited and mixed this 7-part podcast family drama for Cecilia and Mindshare, working closely with them and Land Rover to create an innovative podcast recorded in binaural audio, on location across the UK with a host of actors, presenters, explorers and sports personalities.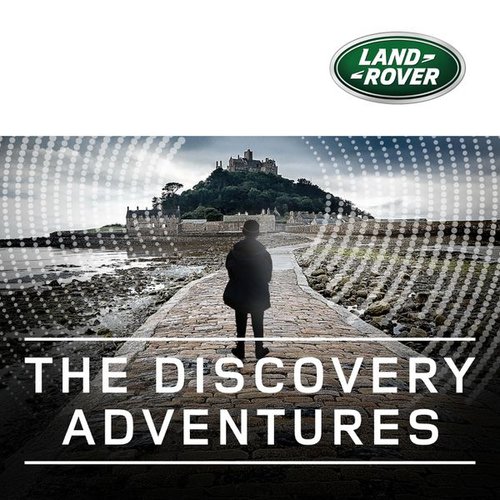 Sennheiser Pro Talk interview
Sennheiser Pro did a 7 part interview with myself and Colin Pink
B - Royal Court Theatre
Directed by Sam Pritchard
Victory Condition - Royal Court Theatre
Written by Chris Thorpe. Directed by Vicky Featherstone
CBeebies The Snow Queen
Directed by John Spooner. Featuring a five piece band, this musical was broadcast on CBeebies over Christmas and on BBC1 on Christmas Day
Teaching seminar for RADA sound students